A record number of sales were reported through TRREB's MLS system for 2021 – 121,712. This shatters the previous record of 113,040 which was set back in 2016. An all-time high average selling price was recorded $1,095,475 across the board – an increase of 17.8 % compared to the previous 2020 record of $929,636.
Despite the Covid-19 pandemic, the demand for housing did not slow, in fact it sustained a record pace for 2021. Growth in many sectors of the economy, along with extremely low borrowing costs, fueled this pace. Tight market conditions across the GTA as well as the lack of inventory across all home types resulted in intense competition between buyers, driving the sales prices up by double digits year-over-year.
In December, TRREB and GTA REALTORS reported strong sales numbers, based on historical analysis, but these were still down compared to the record-setting numbers of December 2020.
Here is a glimpse at what The Toronto Real Estate Board REALTORS
through TREB's MLS
System has released in York and Simcoe Region for the month of December 2021:

York Region :
The average sales price is up slightly compared to November 2021 with a +2.20% increase but up a whopping +31.38% compared to December 2020!
The number of sales is down -33.61 from November 2021!
The number of sales year over year are down -23.06% from December 2020!

Simcoe Region :
The average sales price is up +5.25% compared to November 2021 and up an incredible +39.68% compared to December 2020!
The number of sales is down -40.89% from November 2021!
The number of sales year over year have also dropped -32.91% from December 2020!

Here are the numbers: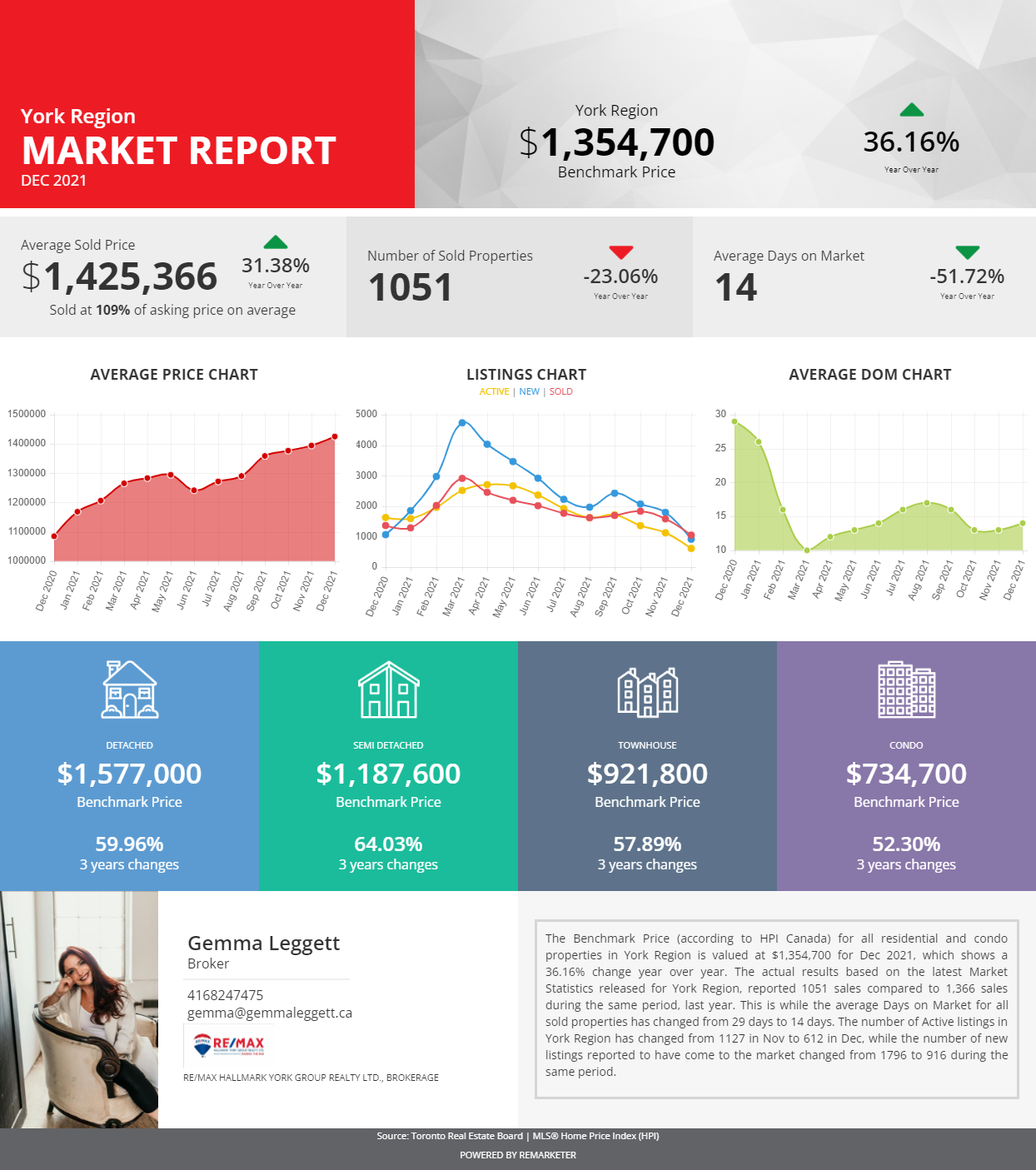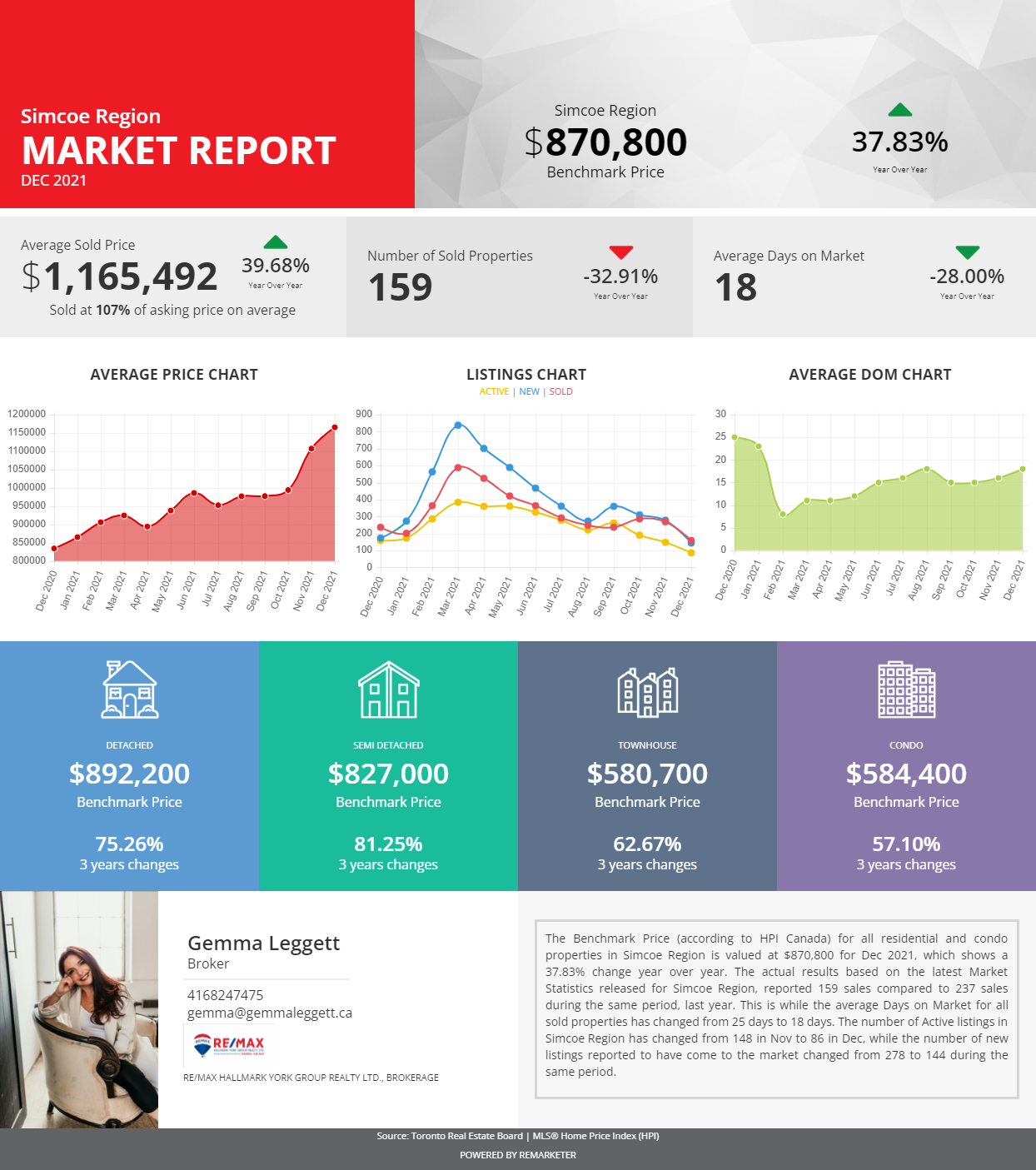 Here is an overview of the average sales price for 2021 in both the Simcoe and York Region markets: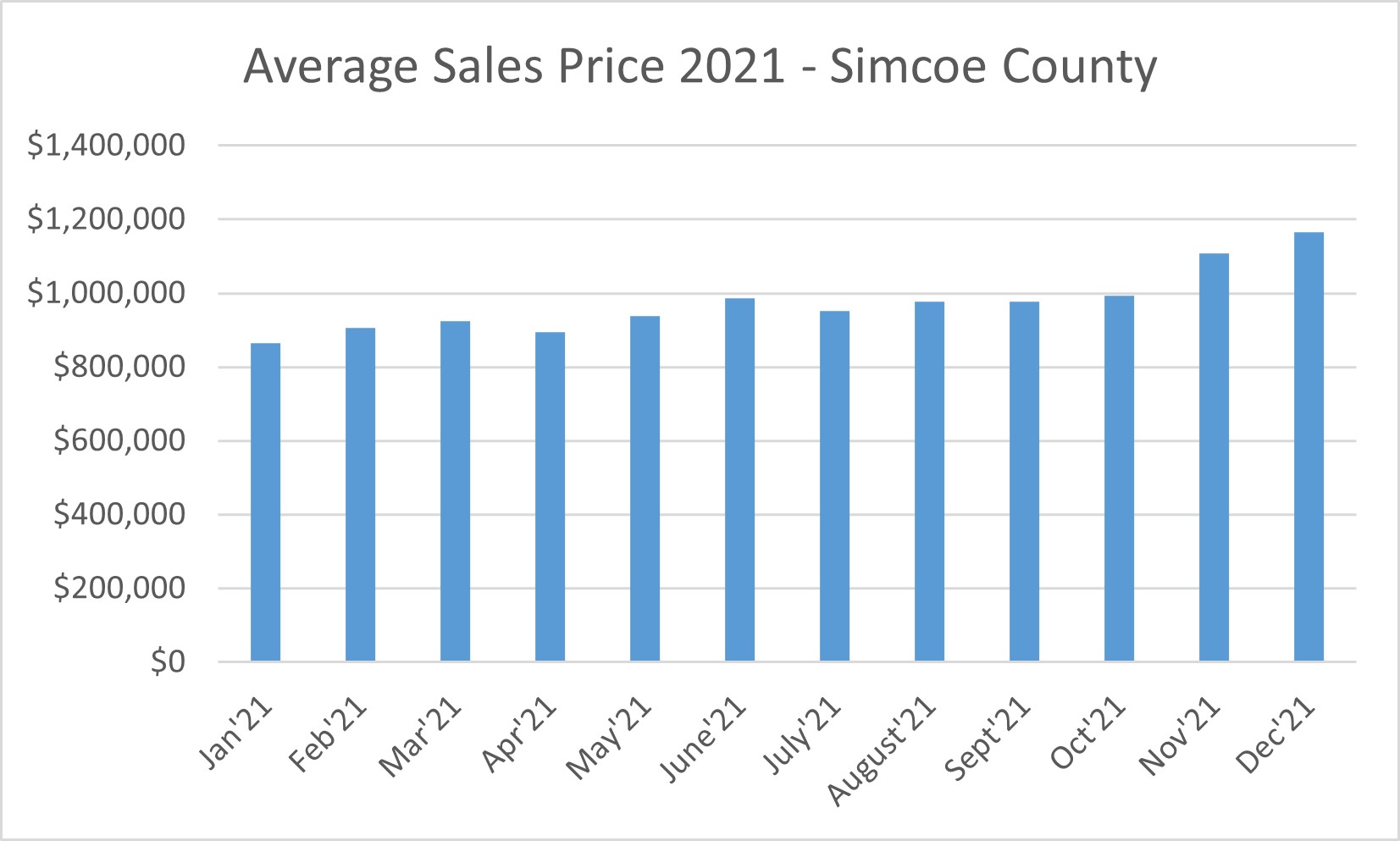 I specialize in York and Simcoe, however, if you or anyone you know would like to discuss the market or specific neighborhood, please don't hesitate to contact me anytime.

Your home is one of your biggest assets! Is having a professional by your side important to you? Call ME!
Helpful Resources:
Subscribe to my YouTube Chanel: https://rb.gy/iyxega
What Clients say about Gemma Leggett: https://rb.gy/ikv0do
Mortgage Payment Calculator: https://rb.gy/fepand
Receive NEW listings in your inbox: https://rb.gy/49n8bu
H O M E W O R T H ? https://rb.gy/wks9sq
Receive SOLD listings in your area: https://rb.gy/n7pne0
Let's Connect Here:
B L O G https://rb.gy/izzjyp
F A C E B O O K https://rb.gy/w5uuvx
I N S T A G R A M https://rb.gy/msmcz5
L I N K E D I N https://rb.gy/auvxms